Joined

Nov 5, 2022
Messages

38
Reaction score

8
Points

8
Greetings everyone,
I am in the process of putting together a Petit long bay IBA car wash. My plan is as follows:
One 72' long bay building with 10' wide mechanical room. So the building will be @72' long x 27' wide. Petit 360i with Dencar pay station. 4 JE Adam's round vacs with arch LED booms. I'm looking to mimic the petit washes in Ohio like United auto wash. I plan to have a wash club with limited washes(15/month). I'm thinking $10/20, 15/30, 20/40 for single/
membership
pricing.
My plan for the 72'x10' mechanical
Room is to put all the petit stuff on one end and run/store products for my mobile oil change business on the other with access via a large garage
door
.
The vacuums will be free. My location is a good one, I'd call it a "B" location with my neighbors being major grocery stores. I've got car counts of 18000 and decent demographics. I look forward to this process. It's not gonna be cheap to build in the current economic environment and I'll be taking out an SBA loan for 70% of the project. Please feel free to give feedback and shoot holes in my plan. Just be nice. I'm looking forward to all the great knowledge and advice that's on this board.
I've attached a preliminary site plan. I'll getting rid of the vacuum islands on the site plan and putting vacuums against wall.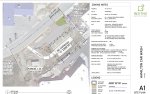 Last edited: