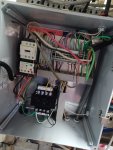 My 4 bay self serve has national pride equipment. One of the bays has lost power to the meter box. We have swapped the transformer from another bay that is working with the non-working transformer and it still gets no power to the meter box. But the transformer of the non-working bay works in the other. So, it doesn't appear to be a transformer. Issue.
The odd thing is we have 120v coming in on the two lines at the top but 0 volts coming out of the transformer. This is true of both transformers that were swappped/tested.
Has anyone run into this? Is there some reason power seems to be going into these transformers but not coming out?