Hi guys. With my old Futura do you think it's possible to cut this grime? I just switched to blue coral presoak and it didn't help.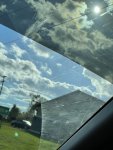 My friend sent me this to let me know the wash isn't working well. Is it a presoak issue? Today I filled up my water bottle at the wash and I couldn't stand to drink the city water. It was strong chlorine tasting. I have a theory that maybe the water department's treatment is inconsistent. I've drank it before and tasted good. Could these fluctuations in chlorine etc. be messing up my chemicals?
The float went bad on the tank that stops the well water, so it's shut off. New one is on the way!
Maybe I should use the water well only to avoid variables. I thought the city water was doing great because my sister said her car looked better than ever.
I've got to get this straightened out. I read you guys saying dwell times and I'm wondering if I have a setting for this. What do you think about presoak application? I have some foamjet nozzles and some regular fan spray nozzles. Does it need to be foamy to work better or would the penetration of the higher pressure nozzles on the presoak help kick it loose? Thanks for all that you guys have taught me! I just want people to get their money's worth, but maybe it's just my machine. But then I think maybe most any
touchless
would have this issue. Maybe the road film here in Ohio is just nastier than some.