More fun at the car wash. Some genius spent several hours over two separate days breaking into one of my vacuums and severely damaged the meter box and faceplate (and got maybe $5 if he was lucky since I had just emptied it). I am hoping it might be possible to cut this damaged one off and replace with a new box and faceplate?
First question: this appears to be a JE Adams vacuum - is that true?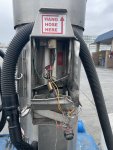 This is what my other good one looks like if it helps identify it: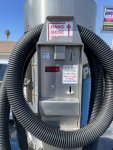 Assuming this is a JE Adams vacuum, I believe they sell a replacement meter box and faceplate here:
For over 35+ years, J.E. Adams has been producing high-quality self serve car wash equipment, pressure washing products, and mist cooling solutions.
www.jeadams.com
The only thing it seems to not have is the "Hang Hose Here" vertical part above the meter box but I could probably have someone cut that off the old one and weld it onto the new one.
Would it be worth trying to repair this? Any other suggestions?
Thanks!